Post by denzel on Aug 20, 2019 17:38:10 GMT
Another fine episode, not classic Terry years at it's best, but still a bit of a classic nonetheless. Will be remembered mostly for the song featured in it, but also for a few other things, at least for me:


Tony Hoare wrote this. He's done some great episodes throughout Minder's run, to be sure.


Mike Holoway has one of those familiar boats. Off the top of my head, only other place I can recall seeing him was in a show called Pauline's Quirkes, as himself. He has that pop star look to him, so darn well cast in this episode.


Ok, so the white whistle happened to have been years before Smooth Criminal/Moonwalker hit. But come on..."oooow"! Who else thought this might have been channeling/responding to Michael Jackson?


Nice intro to Mellish, who does well here...and Tony Hoare seems to have contrived the naming of him for Rycott's line...this is not exactly the sort of investigation I relish, Mellish.


Hilarious moment when Arthur hurts his hand, and yells, ooooh..to which Terry, perhaps not noticing, replies that the tune is catchy, innit.


Liked how Arthur hides his face from the returning punter at the lot, and a great moment with Rycott, when Daley walks past him...and gets him wondering if it could possibly have been him.


An oddity in this episode, with Arthur calling Sharon, "Share-on". Not sure if this is a legit pronunciation, or another of Daley's dodgy ones, but he does call the other Sharon the same, in Monday Night Fever.


Nobody's perfect, and Hoare's writing in this is poor in parts..particularly, the girlfriend's explanation on how they took advantage of finding what seems to be an exact clone of Zac, not to mention how they thought they'd get away with it, i.e that the actual fellow wouldn't be identified as someone other than Zac..sorry, but simply not believable at all...though that is only an issue if you've actually thought about it.


Great stuff with the "artistes" at the studio...love the first one, "Clarence", and his bizarre English diction..sounds like he's using more posh diction than that posh version of The Firm's Daley tune!


Nothing wrong with Mel Smith's performance at all. Actually, I'd half expected to hear complaints about it, like how people didn't buy Rene from Allo Allo as a fat hard man. But Mel's menacing manner probably made the difference.


And I'd have to say, a somewhat poor ending, to a somewhat different episode than usual..bizarre in places.


Some people notice cars, but I tend to notice the geekier things; there's an Atari 2600 box sitting in Daley's lockup.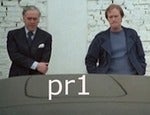 What does Gorn mean in the title?
Yeah, I believe it's "gone", as said earlier. Arthur says gorn from time to time..one instance is in Poetic Justice Innit..it's gorn, it's all gorn!
Alternatively: the Gorn is the creature Captain Kirk famously fought..but that's neither here nor there..