Post by Arch Stanton on Mar 23, 2016 20:06:03 GMT
Big Zapper
- 1973
'Dirty' Harriet Zapper is a private detective and the best in the business. She's smokin' hot, a crack shot, smart as a whip and an expert in martial arts.
Then one day she receives a phone call from a rich old guy whose daughter and son appear to be missing (we know what's happened to them because we see them get killed off in the first 5 minutes!), and so she takes the case and attempts to track down their whereabouts..
However little does she know that they have been murdered by a flamboyant, psychopathic, West End criminal mastermind and pimp called Kono. Who has a bad habit of murdering anyone (mostly girls) who takes his fancy and an army of goons with which to carry out his insane bidding!
Unfortunately for Kono though, the Big Zapper is no pushover, and along with her sex obsessed, idiot boyfriend and sidekick, 'Rock Hard', she goes after results.. And it's gonna take more than an army of bad guys and a mental pimp in a big red hat to stop this gum-heel getting what she wants..!
Okay, so not exactly a 'sex comedy', but I watched this again last night and decided it had to get a review on this thread due to the film's levels of humour, vibe and 1970s sex comedy movie tropes. . . naked birds, the dozy useless boyfriend, cheap double entendres etc etc..
If you've never heard of, or for that matter never seen Big Zapper, I suggest you stop whatever it is you are doing wrong in your life and rectify that immediately, because this film is absolutely terrific!
In fact everything you've ever wanted to see in a sexy, British, martial arts/detective/spy/action movie is in here.. Trust me.

Linda Marlowe, who plays Zapper looks rather like Diana Rigg from The Avengers, except that if you pitted her against all of Steed's female sidekicks from The Avengers, at once, in a massive catfight, she would kick all their ar*es without batting an eyelid, no question...
Highlights include:
Location work - Loads!
Action - None stop. Kung Fu and gun play!
Female nudity - Plenty.
Bad outfits - Hideous.. Especially Kono's zany wardrobe!
Private detective voice over - very clever.
Soundtrack - Magnificent. Very 70s, including flute, snare, heavy bass guitar and wacka wacka overtones.
Gary Hope as Kono - Jaw droppingly good!
Dialogue - endlessly quotable.
A naked man being chased round the edge of a swimming pool while Zapper teaches him a lesson with a whip - check!
Innuendo and naughtiness - not arf!
Verdict: One of the best British adult comedies of the 1970s (heck of all time!). UNMISSABLE. Girl power!
Totty watch:
1) Linda Marlowe [endless TV work from Callan to modern Eastenders you name it, she's been in it (except Minder
)]. Topless and gets out her twinkle (which at the height of the film's special effects powers literally twinkles

).
2) Penny Irving [The Professionals, Are You Being Served?, House of Whipcord, The Likely Lads movie etc]. Nude, looks great, in her prime.
3) Bobbi Anne [no other credits]. Suspected fake name but apt, given her ample bosom and topless chase sequence through some woods at the beginning of the film!
4) Jo Peters [The Two Ronnies, Confessions of a Window Cleaner, The Benny Hill Show]. Pretty sure she was the prostitute/nightclub dancer with the see through top? Actually now I come to think of it, all the prostitutes/night club dancers in this had see through tops!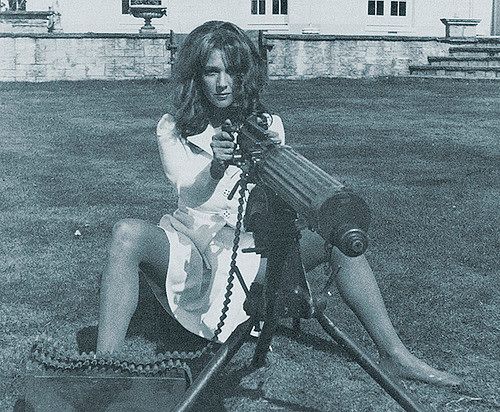 Spread 'em!!
Zapper opens up on Kono's henchmen with a Vickers machine gun.
Elbow room.
Dirty Harriet takes on another swathe of tough guys. Note the split skirt.. Oo er missus